Friday night, #BlogTourNYC was invited by LAUFEN Bathroom to attend the #DIFFA1.2 Party.  DIFFA stands for Design Industries Foundation Fighting Aids and the 1.2 refers to the 1.2 million people living with HIV.  A girlfriend who was infected by her fiance is still alive and kicking thanks to all the research devoted to fighting this disease, so I was doubly happy to attend this party.
The party took place at the DeGustibus Cooking School inside Macys.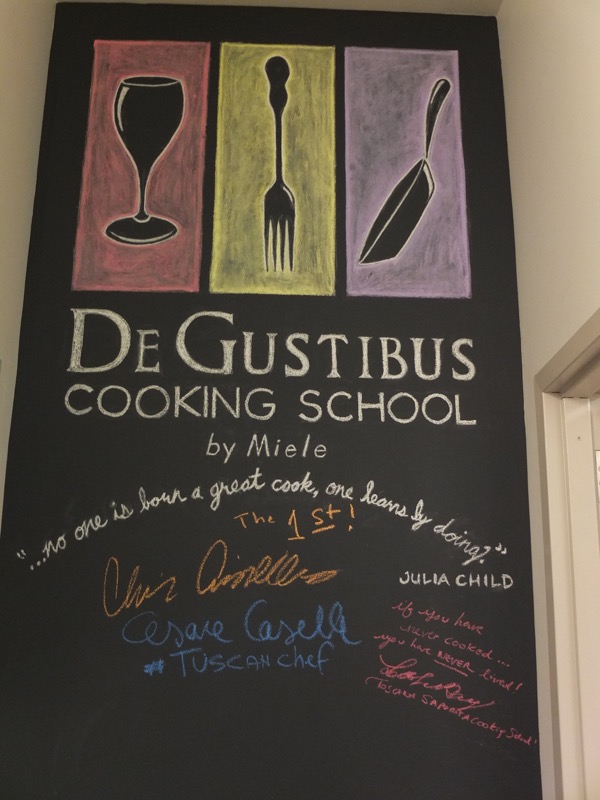 The chefs prepared delicious delectables that were…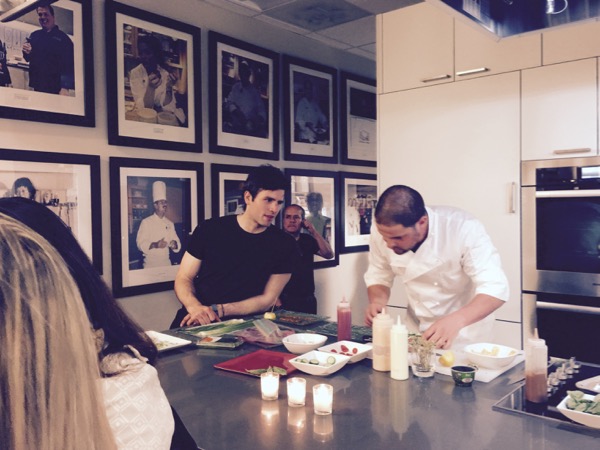 …served by handsome men.  Here's one of them offering culinary delights.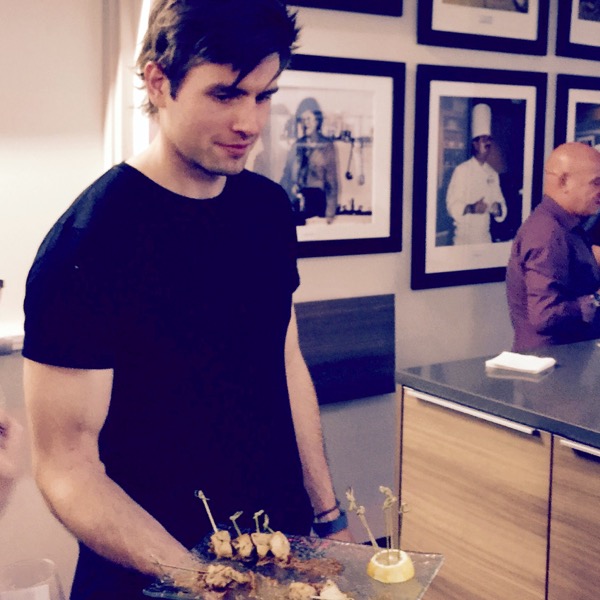 The big smiles on my #BlogTourNYC designer friends Anne Edwards, Amy Wax, Ann McDonald, and Deborah von Donop are a testament to the great time we all had.  The images of certain other BlogTourNYC members dancing and singing shall remain in our collective memory!
After a great time at the DIFFA party, we made our way to the street to wait for our Uber driver.  New York was buzzing and the streets were full of people.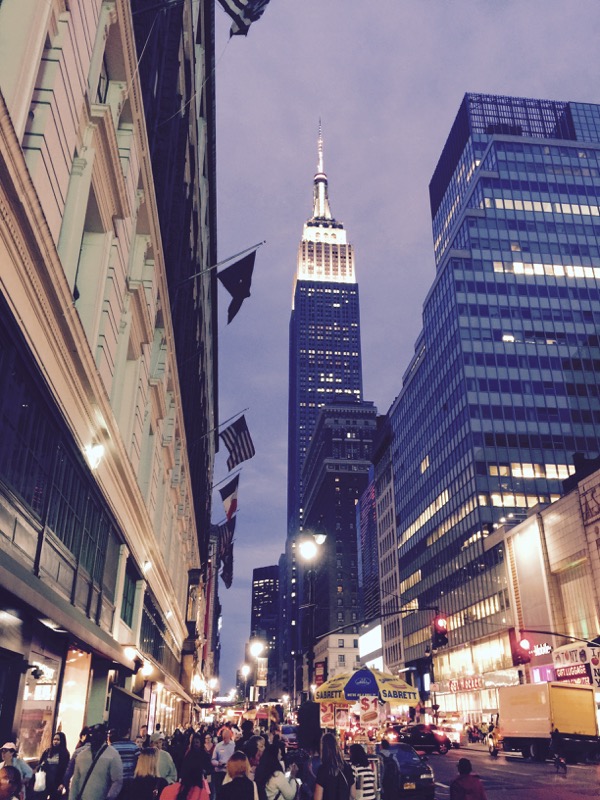 Here you can see the entrance to Macys.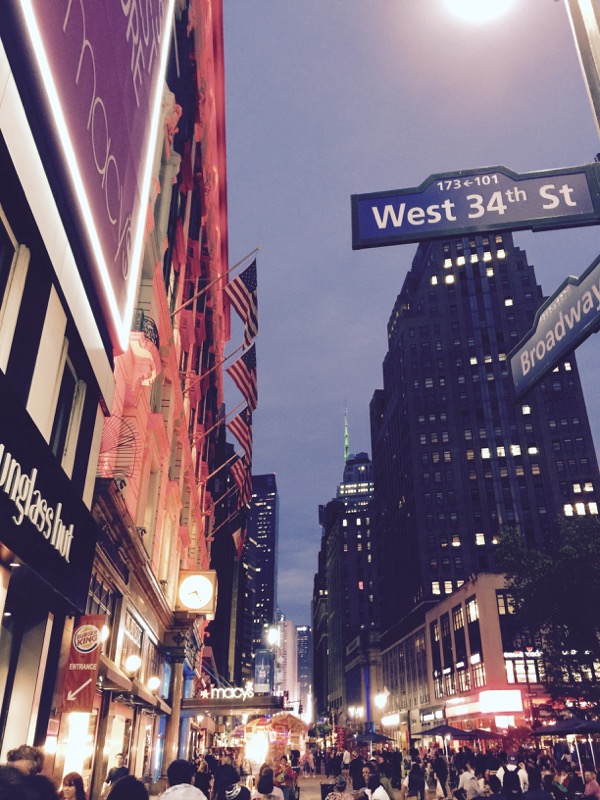 The 3 Anne's of #BlogTourNYC on our way back to the NYLO hotel.  Me, Ann McDonald, and Anne Edwards.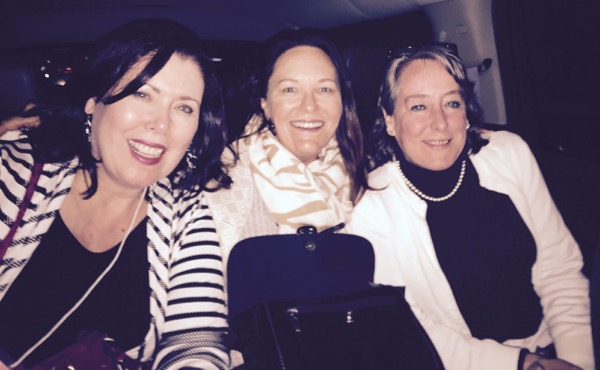 Did I mention that we each had our own private room at the NYLO Hotel?  The bed was sooo comfortable that I wanted to bring it home.  Hardwood floors in a hotel room, seriously?  I couldn't believe all the lighting options either; usually hotels are notoriously underlit.  It was a great room.  Thank you again, Modenus (aka Veronika Miller and Flo Von Pelet), and the BlogTourNYC sponsors:  LAUFEN, Mr. Steam, Wilsonart, and Dacor!!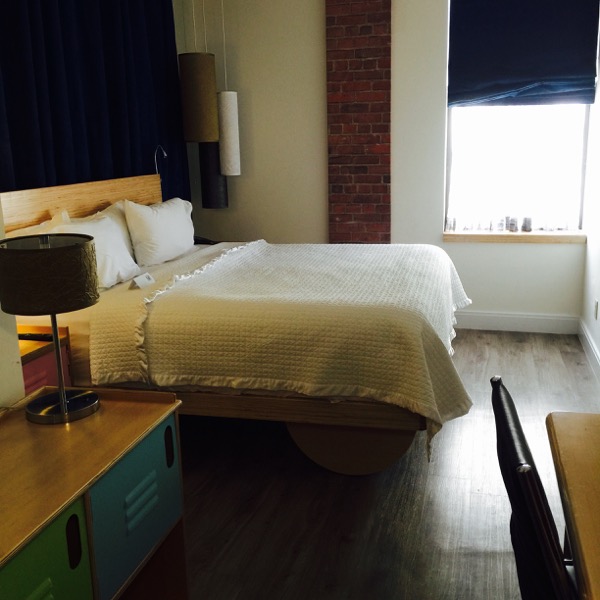 The NYLO bathroom also met with my approval as it was well designed with all the amenities and thoughtful space to hold my toiletries.  My personal preference is for a ceramic sink but stainless is a natural choice in this industrial chic design.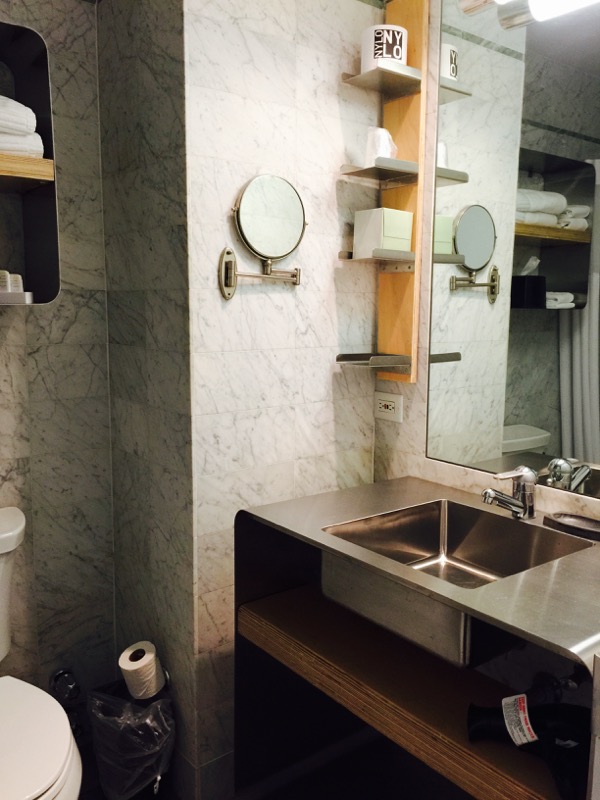 On Sunday, we went to the ICFF design show and visited LAUFEN at their booth.
LAUFEN is a global expert when it comes to manufacturing bathroom ceramics and faucets.  For over 120 years, LAUFEN has been using ceramics to make innovative products in state-of-the-art plants with legendary Swiss precision.  And their collaborations with great designers from around the world have resulted in truly beautiful bathroom products.
The bathroom below is from the collection Ilbagnoalessi One, LAUFEN's partnership with Italian designer Stefano Giovannoni.  His inspiration was in how water smooths stone, how pipes make water useful, and how both have reflective surfaces.  This bathroom has a sleek yet organic ambiance.   Delightfully organic and sexy!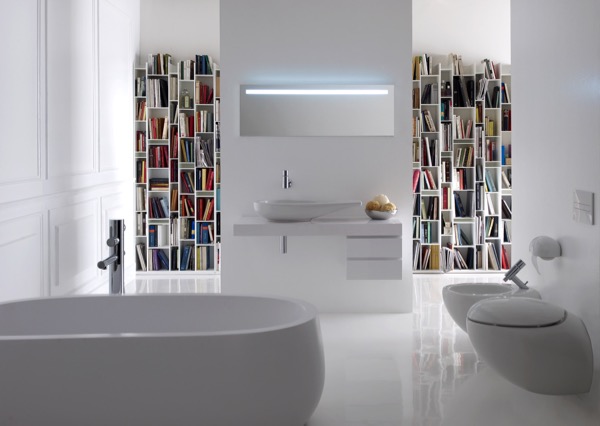 Here's a photo I took of the sink at ICFF.  I love how the feeling of flowing movement is captured in the ceramic.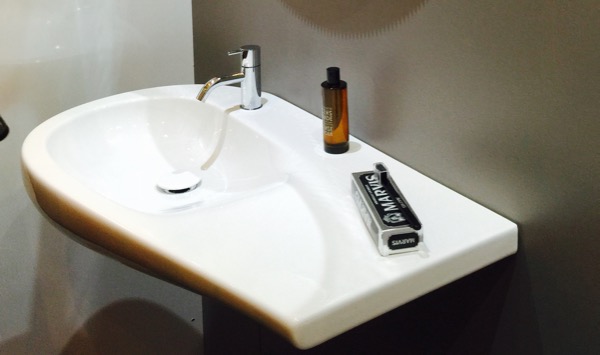 LAUFEN also partnered with iconic Italian design firm Kartell, known for their color and revolutionary use of plastic materials in furnishings.  The vanity cabinets below are ingenious for making every inch count.  In typical Florida homes, storage is often insufficient.  Wait til you see how these work.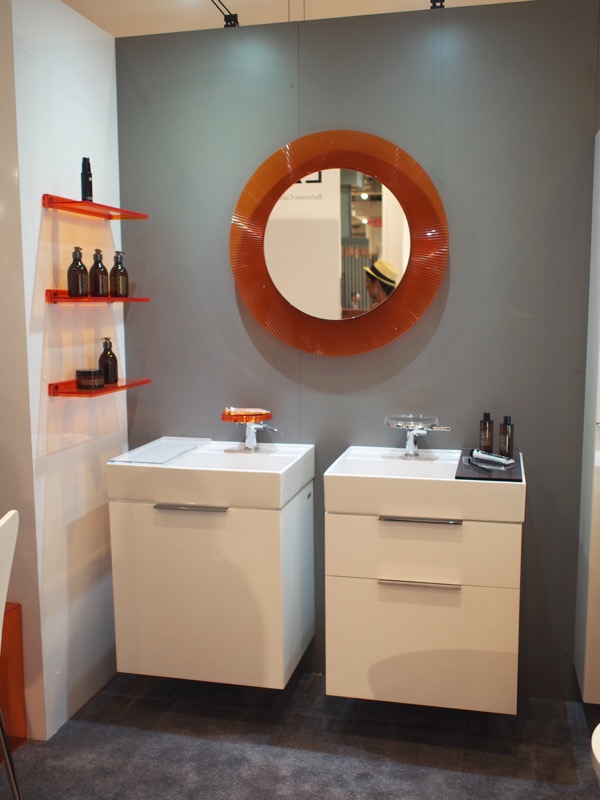 Let's start with the faucet.  The round disc on top is a shelf.
The shelf holds a removable plastic tray that sits securely on the shelf and is not dislodged or bumped when turning the water on or off.  The plastic has a very substantial and sturdy feel.  The trays come in 4 colors:  orange, gray, clear, and blue (not shown in this pic)  There's also a rectangular tray, also removable, that also…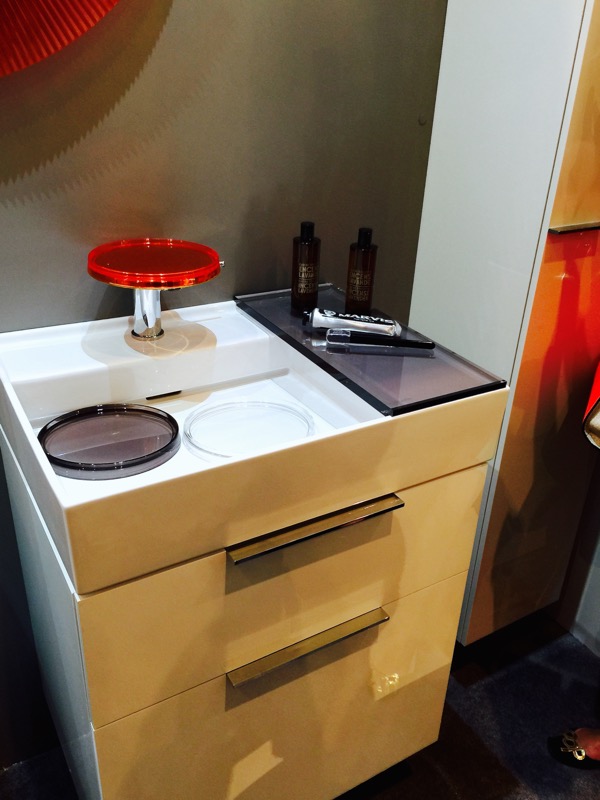 slides on either side of the faucet.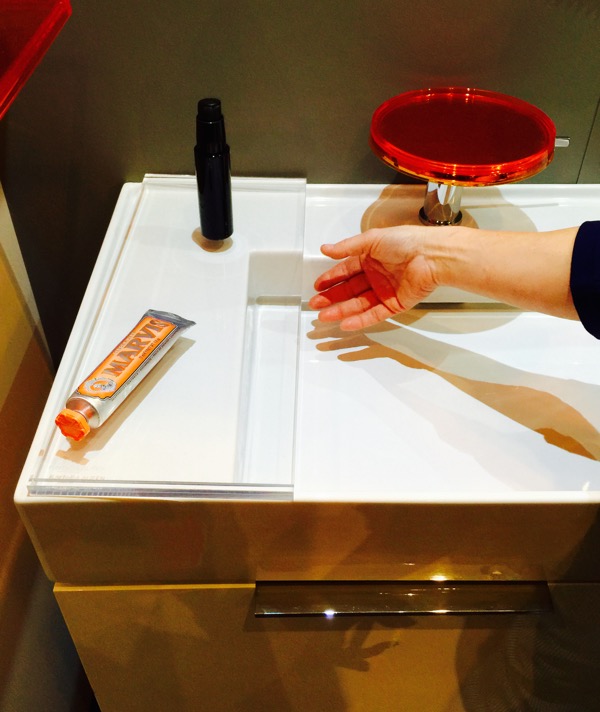 Usually a bathroom vanity cabinet is such a waste of space because the entire area around the plumbing can't be used. Inside this Kartell by LAUFEN vanity, the drawer is constructed around the plumbing.  So smart!  It's just big enough for all my make-up, LOL.  Seriously, bathrooms need all the storage possible, and this cabinet makes every inch count.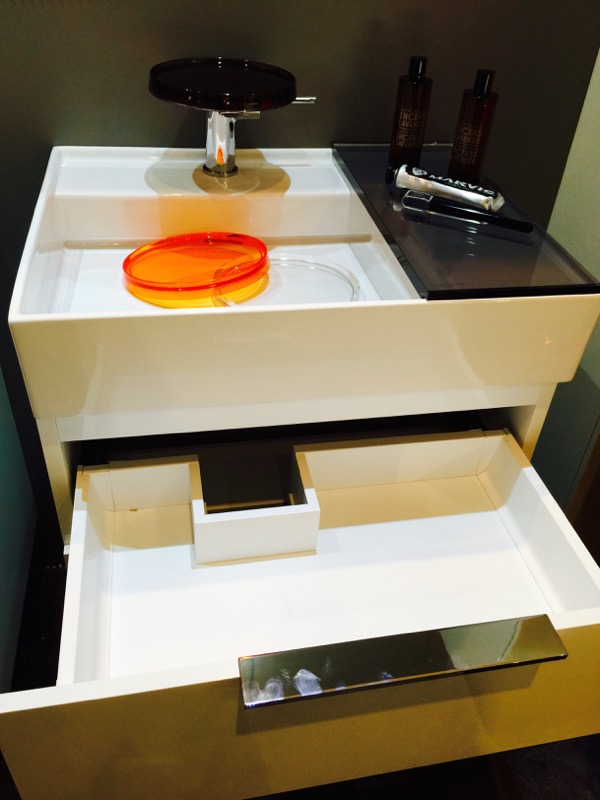 Here's the blue color and the companion wall shelves for even more storage.  (The blue is actually one of the wall shelves sitting on top a clear sink sliding shelf.)  Now did  you notice how thin the walls of the sink are?  Besides looking sleek, the thin walls also give more basin space which = more splash space which = less tiresome wiping up of counters.  That little slit in the ceramic is actually the drain!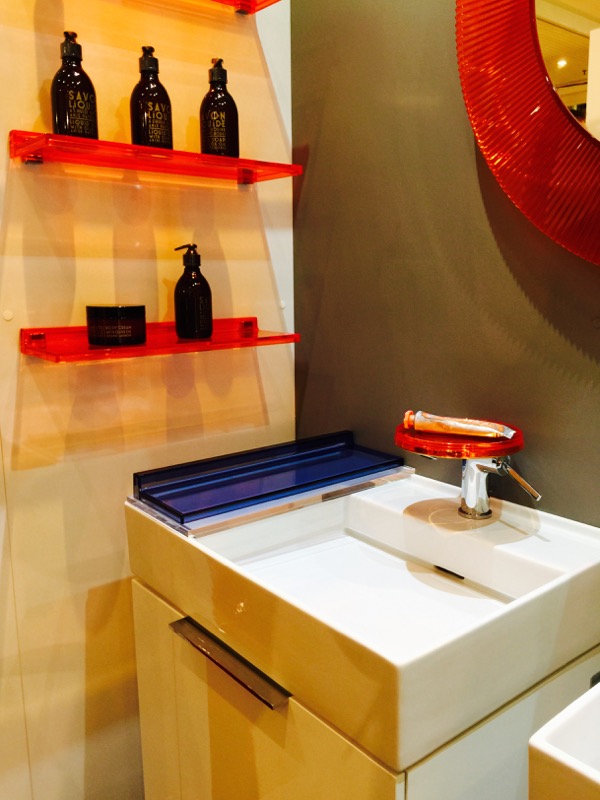 Using the mineral corundum which is found in sapphires, LAUFEN developed SaphirKeramik, an innovative new ceramic which was five years in the making.  Because SaphirKeramik is super strong and has greater flexural strength than steel, it opens up entirely new ways to design sinks, bathtubs, toilets and bidets, because now these items can be 1/3 to 1/2 the thickness of current ceramic bathroom products.
Dr. Werner Fischer, Research Director of LAUFEN, shows the new SaphirKeramik (right) in comparison to conventional ceramic (left.)
Using a thinner ceramic body and a simpler structure reduces the weight compared with conventional ceramic.  Lower raw material costs and energy consumption in production and transportation help preserve the earth's resources, including one of our most precious natural resources, water.
The super sleek walls of this vessel sink are made possible with SaphirKeramik.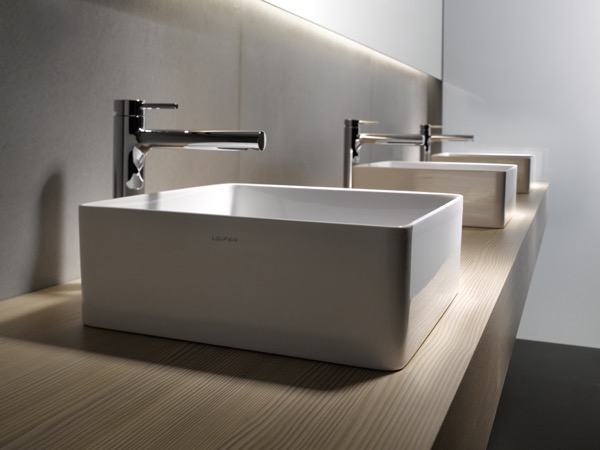 The inside of this sink is curved for easy cleaning.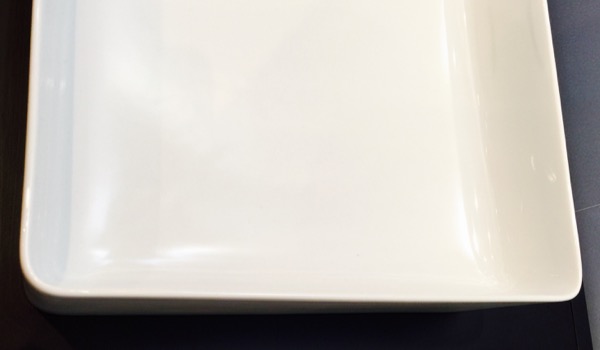 One thing you don't see is the typical pop up drain that looks fine new, but over time discolors.  In many LAUFEN sinks, the drain is a ceramic disc.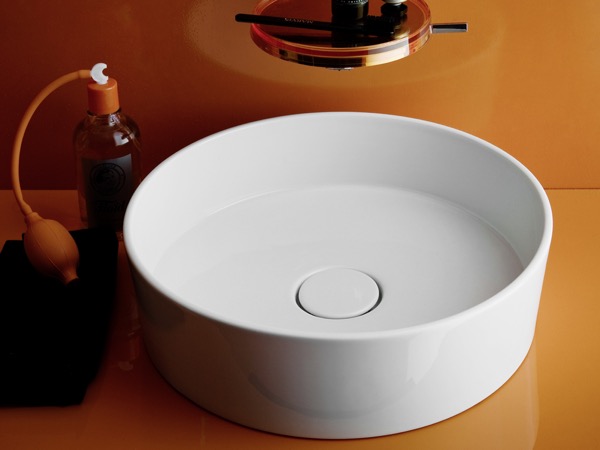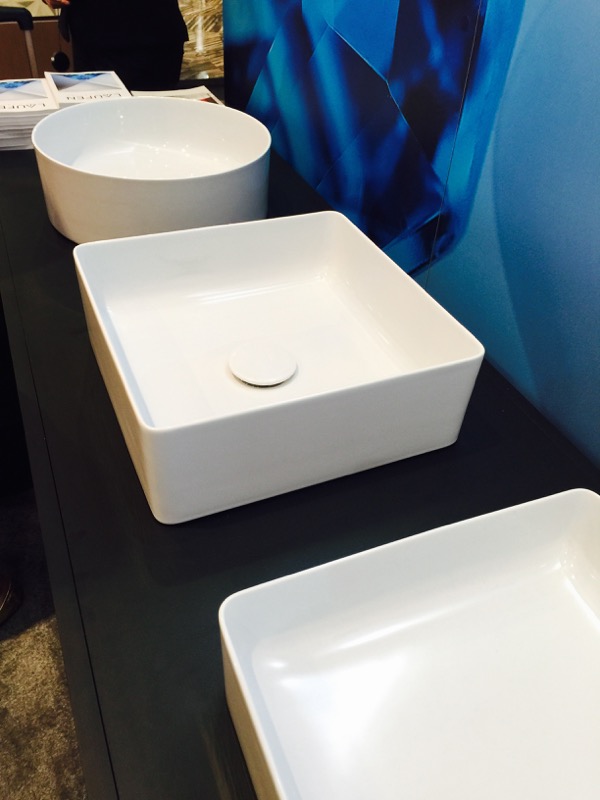 In these 2 photos (taken by fellow BlogTourNYC designer and friend, Anne Edwards) you can see the ceramic drain cover in this LAUFEN sink.
And it's removable for easy cleaning!  Why aren't all drains like this?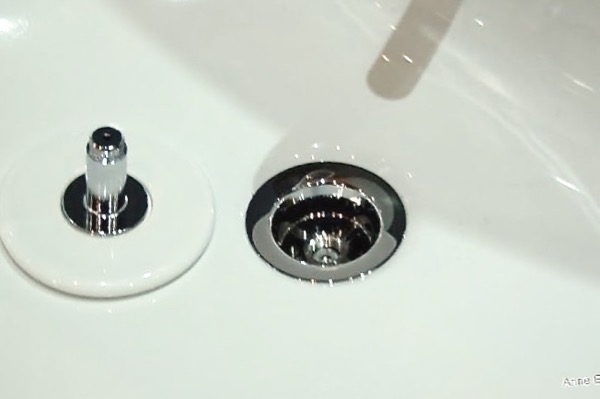 The drain is an integral design in this LAUFEN sink.  Virtually invisible and so much easier to keep clean.
I also love the sleek side walls of this toilet, no nooks and crannies to collect dust.  Can you tell I don't like cleaning? The lid lowers softly with a gentle nudge.  No more slamming toilet seats.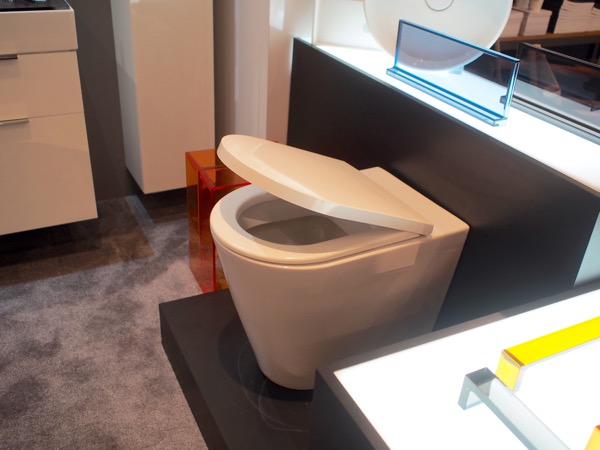 Clean lines, intelligently designed with an organic feel that preserves our natural resources, LAUFEN is sure to show up in my next bathroom designs.  Can I help you create this in your bathroom?
Thanks again to LAUFEN Bathroom for sponsoring a wonderful #BlogTourNYC, an experience I adored, and for showing us how bathrooms can be so beautifully and smartly designed!  To see more about LAUFEN and their beautiful designs, click here.  To see more about my design experiences on the BlogTourNYC, see A Steamy Afternoon in New York and Someone's in the Kitchen at Kips Bay Decorator Show House

One Response to "Smart & Sexy in the Bathroom"
Leave a Reply