Everyone wants their shutters to look attractive, and it's equally important that they operate easily and continue to function well for years.  Replacing warped shutters (or blinds) is expensive, so it makes sense to buy the highest quality you can afford.  Shutters need to be able to withstand the blazing hot Florida sun which can turn inferior products black and cause them to twist and warp.
I am proud to carry the fine wood and faux wood shutters of  Norman Shutters, the largest manufacturer of window coverings. Norman shutters are all high quality, have a limited lifetime warranty, and are available in a range of prices to meet any budget.  As for style, there is something for everyone!  Each shutter is handcrafted based on a 30 year tradition in a state-of-the-art factory that is 63 football fields long! What separates Norman Shutters is that they are constructed like fine quality furniture.   They are offered in five lines:  Sussex, Normandy, Amhurst, Woodlore, and Woodbury.  And they are competitively priced!  Read on the see why Norman Shutters are the best.
In addition to traditional window shapes, Norman Shutters are available in Specialty Shapes such as Sunbursts, Arches, Hexagons, Octagon, Angle tops, as well as for French Doors and Sliding Doors.  Just about any configuration and style is possible with Norman Shutters.  Available louver sizes range from a small 1 1/4″ Colonial Louver all the way up to a large 4 1/2″ louver for the most unobstructed view.  Louvers can be the traditional elliptical shape or "S" shaped.  Many decorative frame options are available, including a designer sill cap to cover marble sills.
The traditional tilt and offset tilt options are offered but I'm most excited about the new Invisibletilt.  InvisibleTilt now replaces HiddenTilt for the ultimate view-through experience.  InvisibleTilt is a gear driven louver tilting mechanism that is completely hidden in the stiles (the vertical sides) of the shutter.  No protruding bars to interfere with your view. Smooth opening and closing and the louvers close tightly and evenly.  Because nothing protrudes, a 1/4″ less window depth is required and of course, Norman Shutters are child safe with no cords.
You can see the difference:  The standard tilt is on the left and the hidden tilt bar is on the right, with the Invisible Tilt in the center.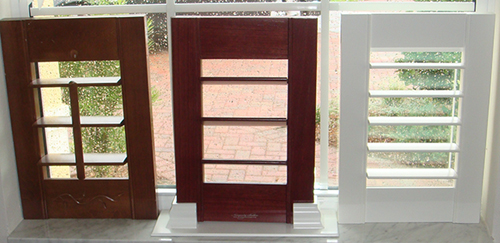 InvisibleTilt is totally invisible!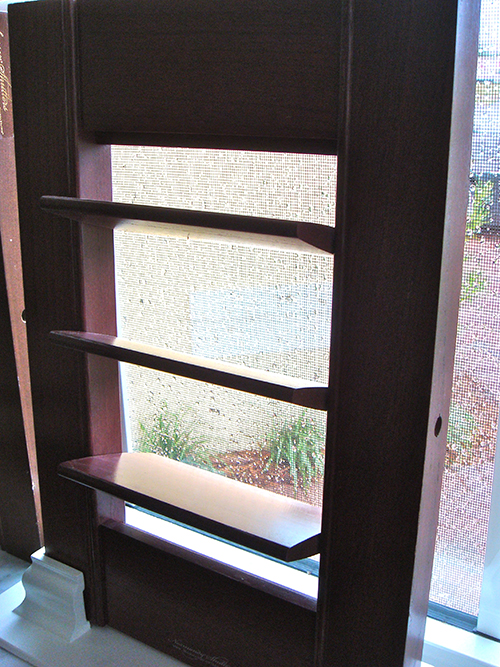 For those windows that are hard to reach, like the windows behind a garden tub or 10′ up, the convenience and safety of PerfectTilt – motorizing your Norman Shutters – is ideal.
Perfect Tilt Motorization is available on Sussex and Normandy shutters and is battery operated by a wireless remote.  Louvers can still be moved manually.  The remote is pre-programmed to set louvers at 8 angles and can operate from one to multiple panels at a time.  The shutters can be controlled from up to 25 feet.  The flat motor is placed on the back of the shutter and is unobtrusive.  Solar motorized shutters are also available.
One of the features that my clients love is the ability to have some louvers open and some closed.  So if you want privacy in your bedroom without sacrificing light, you can have the top louvers open and the bottom closed.
All Norman shutters are constructed with
Engineered stiles (the sides of the shutter) which are multiple layers of wood bonded together with opposing grain lines.  This enables the shutter to resist the tendency of wood under stress to warp over time.
mortise and tenon construction which is far superior to the typical dowel construction.  Using mortise and tenon joints allows for a larger glue contact area.  This enables the shutter to resist the racking and shear forces that shorten the life of a shutter.  Mortise and tenon is traditionally used in fine furniture.
Recessed magnets for a streamlined appearance without bulky bolt-on magnets
Furniture quality finishes to blend seamlessly into your decor.
The Sussex, Normandy and Amhurst fine wood shutters are:
made using Norman's Customized Kiln Dry and Prescription Wood Conditioning process that ensures the shutter is pre-conditioned to your geographic region.  (there are 5 for the U.S.)  thereby reducing the possibility of warping for the life of the shutter.
made with Quarter sawn louvers for greater grain consistency and resistance to bowing.  Quarter sawn wood is traditionally used in fine furniture.
The Sussex and Normandy painted shutters are made from Basswood which is a lightweight hardwood that has great strength and stability.  In fact, Basswood has the greatest strength to weight ratio when compared to other hardwoods.
Basswood has exceptional insulation factors from heat and cold.
The lighter the shutter, the less weight on the hinges, resulting in a more durable shutter. Norman uses basswood,  Phoenix wood, and Western Red Cedar, all very lightweight woods.
Sussex is
made from hand-selected premium basswood and hardwoods.
This tight grain results in long-term stability and durability and gives a uniform appearance with rich wood character in stains and smooth paint finishes.
The assembled shutter goes through a meticulous process of 5 separate hand sandings and applications of 5 coats of stain or paint.  This results in a soft, lustrous surface more akin to silk than the rough-hewn shutters from other manufacturers.
hand crafted and finished with a rich palette of 18 paint colors (including a prime-only so they can be custom painted to match your decor) and 32 stains, Sussex is truly fine furniture for your windows.
is available in 8 painted finishes and 16 radiant stains.
is also available in prime-only so they can be custom painted to match your decor.
hand sanded and finished 5 times to create a lustrous finish.
Normandy painted shutters are made from select basswood and hardwoods for a tight grain resulting in long term stability and durability and a uniform appearance with smooth paint finishes.
Normandy stained shutters are made from Phoenix wood which is an extremely lightweight hardwood from harvested trees that reach maturity in only 8-10 years vs. other trees that can take up to 100 years to harvest.  The grain texture gives the aesthetic appearance of oak.
Amhurst is
made from Western Red Cedar
Called the "Tree of Life" by Native American of the Northwest, Western Red Cedar contains natural tannins that resist moisture, decay, and insect damage.
Innately lightweight, it enables panels to be larger for a streamlined look and more open view.
Provides acoustic insulation as well as exceptional thermal insulation.
Known for its unique fresh scent.
Handsome rich texture that can be truly appreciated when oil or lacquer finished.
Multiple hand sanding and finishing yields a translucent, polished appearance.
Available in bright whites as well as natural wood tones with a lacquer or oiled finish.
The Woodlore faux wood shutters are made
made from E1 rated MDF materials with wood that is harvested from well managed forests.
The MDF core is wrapped by a durable patented polypropylene coating that incorporates an advanced UV inhibitor and resists fading, yellowing, denting, scratching, staining, and moisture damage.
This patented MDF coating process results in formaldehyde emissions that are almost imperceptible. In a recent test by the Composite Panel Association, formaldehyde emissions from Woodlore were 0.00PPM (parts per million).
The solid core and thick louvers prevent the problems associated with hollow shutters.
Withstands tempertures over 140 degrees without warping.
Reduced environmental impact does not utilize/impact old growth forests and does not use harmful chemicals.
Energy efficient R-Value of 4.63 saves on your heating/cooling bill.
The Woodbury faux wood shutter
is designed for damp locations like showers and baths.
It is made from ABS, an advanced thermoplastic materials that is very durable and resilient and looks like wood.  This material is used in auto parts, football helmets, musical instruments, and even Lego toys.  The material will not rust, rot, or corrode.

Norman Shutters are a smart investment that will make your home more beautiful, control your privacy while preserving your view, help control heating/cooling costs and protect your furnishings.  I provide excellent customer service and my installers are experts, giving you peace of mind.  And my prices are very competitive.  Call me today for your risk free quote.