Who's in the kitchen?  #BlogTourNYC, that's who.  BlogTour is the brainchild of Veronika Miller of @modenus as a means to bring interior designers, bloggers, and other creatives together to explore selected design brands and to share their take-aways.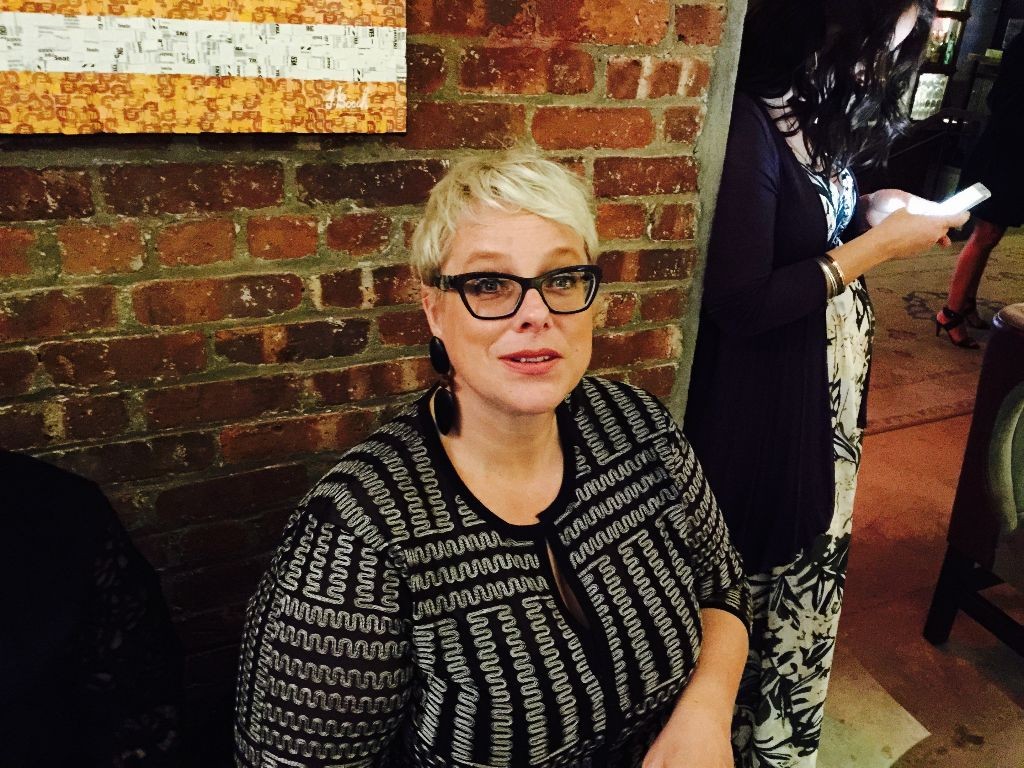 Besides being ahead of the curve and brilliant and witty, Veronika apparently has the knack of picking people who get along great despite the fact we came from all over the world, are all different ages, have different occupations and vary widely in style.  If she had any spare time, she'd make a great party planner.  Oh wait, this four day BlogTour was a party!  By the last day of #BlogTourNYC, we'd all become good friends.  So for that alone, Veronika, I thank you for inviting me.  So come along with me while I share my wild design ride for 4 days in New York City, the Holy Grail of all things design.
Do I need to mention Veronika Miller's uncanny ability to photobomb and look good doing it?  While there was a lot of work involved, (I can hear you saying, "yeah, yeah") there really was, honest!  But there was a lot of fun too.  Obviously.
Our first design destination was the famed 43rd Annual Kips Bay Decorator Show House at the Arthur Sachs Mansion in Manhattan. The show house was decorated by 22 celebrated interior designers to benefit the Kips Bay Boys & Girls Club.
#BlogTourNYC members enjoyed early access, sparkling mimosas and a delicious frittata muffin conjured up by Chef Oliver in a state-of-the-art, gorgeous Dacor oven.
Chef Oliver putting the finishing touches on our breakfast frittatas.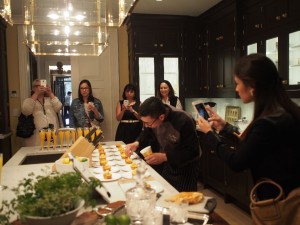 This Dacor oven looks beautiful nestled in the Christopher Peacock custom cabinetry, but it's smart too.  It has an IQ controller for access to the Dacor IQ Remote App, for the ultimate in smart technology.
The Dacor IQ Cooking App allows you to remotely control the oven (or range) via your smartphone or tablet–and even via voice commands for hands-free operation.  Great when you've got your hands full.  You can even set it to start preheating before you get home.
It has a Recipe Box to easily store recipes found online directly into the oven or range.  Then the oven can tell you exactly what to do to cook dinner perfectly.  No more ruined roasts!
Dacor Discovery IQ also has advanced diagnostics to aid in optimal performance.  Plus it's just plain beautiful and adds to the high end feel of the Christopher Peacock kitchen.  It'll even text you when dinner's ready!
This Dacor Renaissance 48″ gas range says a serious home chef lives in this kitchen.  The Illumina oven and burner knob controls light up and have a ProGrip design and stainless finish.  The SoftShut hinges pull the door softly closed, no slamming.
What makes the Dacor range especially impressive is that it has burners that go as low as 800 BTUs for a true, controlled simmer that won't scorch your Beef Bourguignon, and the same burners can also go as high as 18,000 BTUs so you can really sear a steak and keep the juices in.  The burners are sealed and the spill basin is porcelain enameled to make clean-up easy. (music to my ears!)  The grates are designed to make one continuous platform, so when you're done with a hot and heavy pot, you can just slide it off the hot burner instead of having to pick it up.  Are you noticing a theme here?  Yes, I confess, I like cooking to be E-A-S-Y.
The oven accommodates commercial-sized baking sheets and pans and has a huge window so you can monitor your cookies.  Another feature I especially like are the GlideRacks that fully extend on a gliding ball bearing system.  Great for those 20lb turkeys or big pans of lasagna.  No more "nails on a blackboard" screeching while forcefully pulling out heavy racks.  Safer, too.  It just dawned on me that the reason that this range is called Renaissance is because it's so versatile, it can do it all  🙂
For 50 years, Dacor has been designing and building its ultra-premium kitchen appliances in California.  It's also the first and only ultra-premium appliance brand to be tested and recommended by the Master Chefs of Le Cordon Bleu, the world's most respected culinary arts and hospitality educator.  Now that's an endorsement!
Do you drink wine?  Red or white, the Renaissance 24″ Wine Cellar holds up to 46 bottles that slide out effortlessly on beechwood racks.  Like both red and white wine?  Choose the dual zone model and it'll keep the temperature and humidity perfect for both.  
This kitchen is a work of art, with the ultra high end Dacor appliances and the custom Christopher Peacock cabinetry.  I am a hardware geek and love the feel of solid brass pulls.  Note the large base of the knob to protect the finish on the cabinet door, and the solid brass catches.
This is a large party kitchen, it has two Dacor 24″ dishwashers, and I like how they're integrated into the cabinetry.  Six cycles clean whatever you load in it, and WhisperWash feature does what it says.
Thoughtful features like the metal strip on top of the trash receptacle door protect the cabinetry finish.
I noticed a plaid theme happening in the Kips Bay Decorator Show House, starting with this distinctive backsplash design over the range.
Floor to ceiling cabinetry provide great storage and display space.
Upper display cabinets are shallow to allow head room at the sink.
These drawer fronts are from the same piece of solid wood used to make the live edge island counter, and they are set off beautifully by the solid brass pulls.
Loving all the shiny smart technology mixed in with Mother Nature at her finest!
The beauty of this live edge counter brings nature into the kitchen.  Isn't the graining spectacular?
Sending a HUGE hug and thank you to Modenus for inviting me along for all the #BlogTourNYC fun, and to Dacor for sponsoring our breakfast visit to the Kips Bay Decorator Show House 2015!  After learning about all the smart features in their products, their tag line makes sense–The difference is in the details.  Dacor is in the details.  
I hope you enjoyed this little tour of the kitchen at #KipsBayDecoratorShowHouse2015.  Watch for my next post that will be about the next most important room in any home–the bathroom.

5 Responses to "Someone's in the Kitchen at Kips Bay Decorator Show House"
Leave a Reply