Interior decorating consultations make me  feel like I have a magic wand.
For those who don't want a total redo but want help pulling their room together with their existing furnishings, I offer interior design consultations.  These are typically just a couple hours and it's fun to "magically" transform a room right before your eyes.  Walking into a room with my "design eyes" focused on how to improve the interior design starts the idea factory churning.  But if you've ever hesitated to invite an interior decorator to a party in your home because you didn't want your interior decorating critiqued, you've got nothing to worry about.  When socializing in someone's home, I turn off the "design eyes" so I don't feel like I'm working when I'm meant to be partying.  And yes, don't think for a minute that interior design and decorating is not work; it is, even if it's often fun too.
A lovely couple called me to come help them with their great room.  They had just downsized into a villa and were disappointed in the great room because it was boring and lacked pizzazz.  Their furniture layout was pretty good, with the sofa facing the water view and comfortable seating facing the TV, but the furniture needed some minor rearrangement.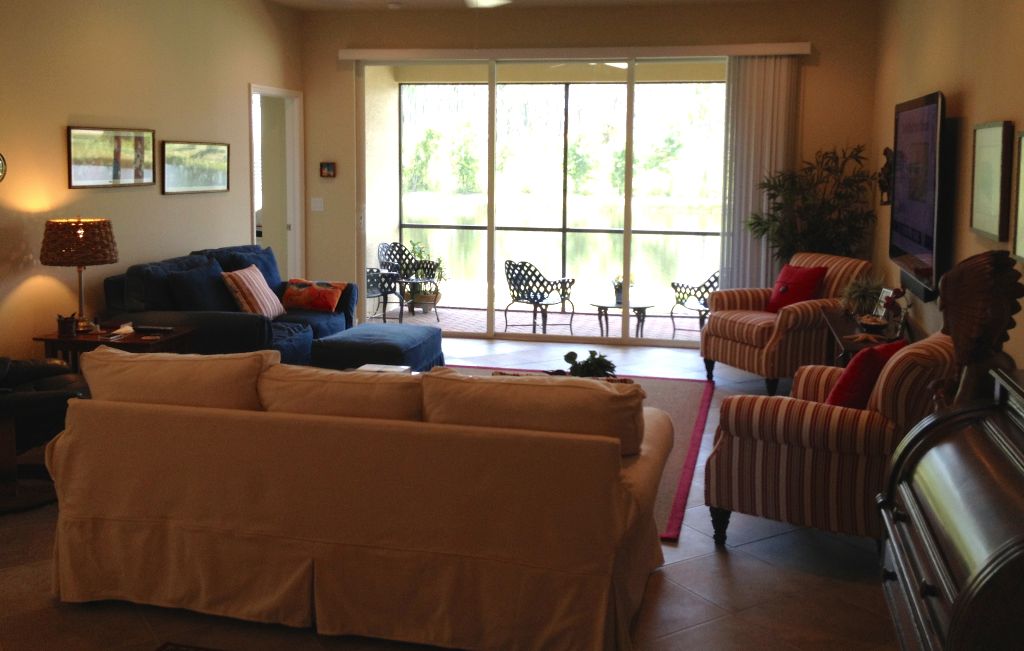 The red striped chairs had matching pillows which did nothing for the room, while the sofa had the solid red pillows.  (I meant to photograph the room before I did anything, but I always get excited and forget!)  So the first thing I did was switch the pillows and immediately the room started to come to life.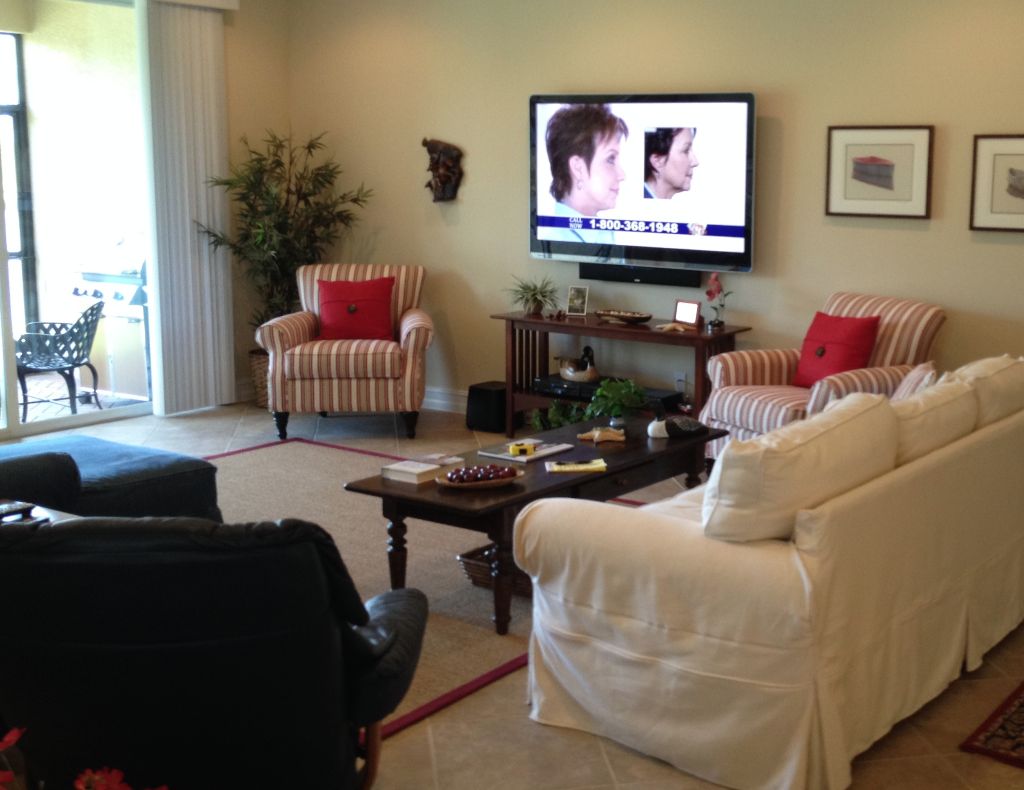 I suggested a new rug because their existing rug was uncomfortable on bare feet, important when one lives in Florida, but also because the rug wasn't doing its job.   A rug should ground a room and help tie the furniture together.   This rug was a tad small and certainly added no pizzazz.  When I explained how a red rug would perk up the room and encourage conversation, they didn't hesitate.
Two weeks later the new rug arrived and immediately perked up the room.  We moved the furniture a bit to give more walkway space between the leather chair and sofa, and switched out some art.  Before leaving, I gave them suggestions for a taller tree (or raising it in a bigger pot), the best sizes, shapes and colors for art which they'll purchase on their own, and naturally suggested a new window treatment which they'll get in time.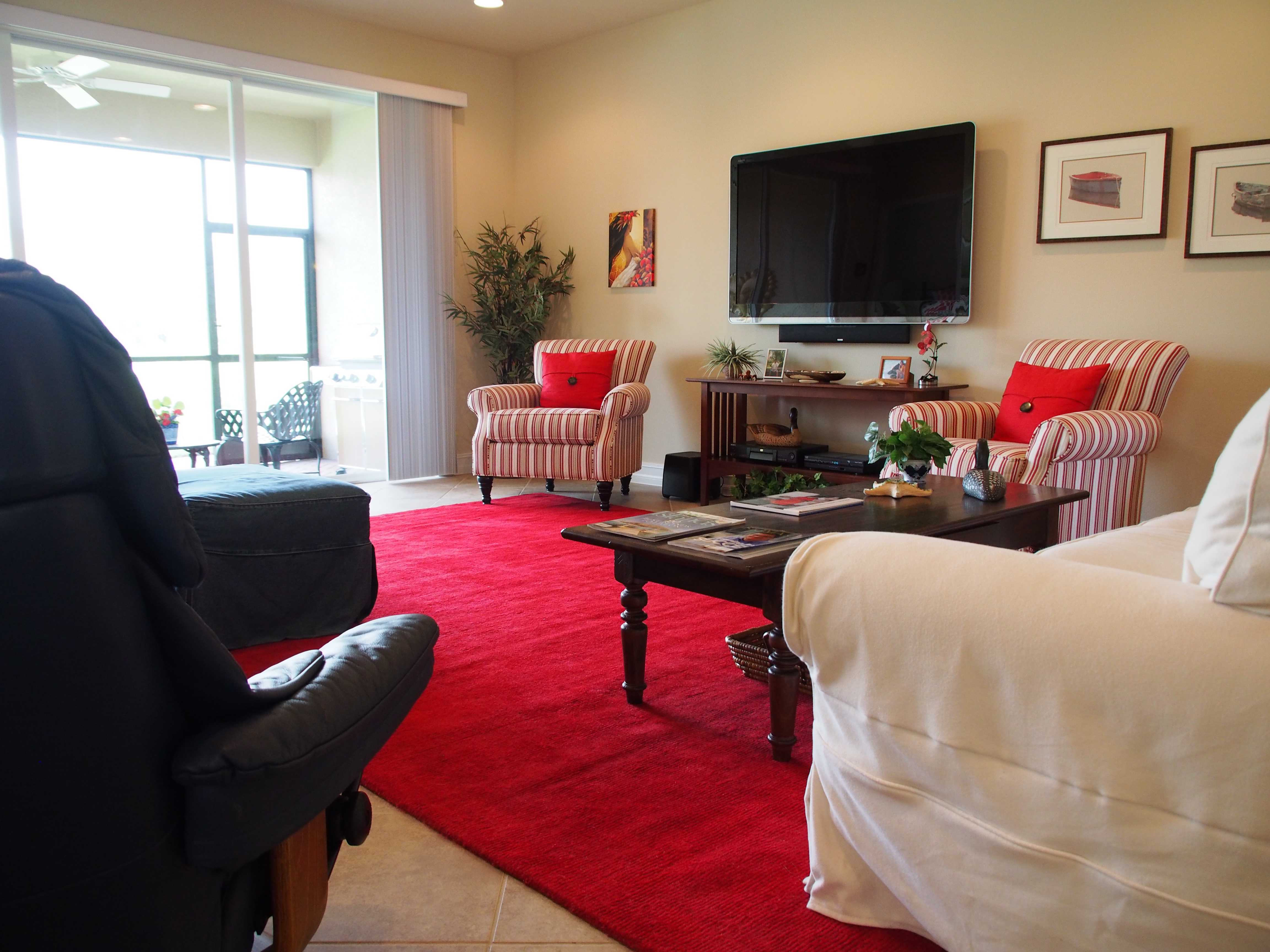 Their great room is no longer boring and this lovely couple is now excited to invite new friends over for lively fun!
Want my help creating interior beauty for your home?  Call me at (727) 415-2097 or email me at anne@annelubnerdesigns.com to schedule your interior design consultation.
Warm regards, Anne

4 Responses to "A Quick Interior Decorating Consultation"
Leave a Reply