Antiques, Architecture, Bunny Williams, Dublin, Interior Beauty, John Rosselli Antiques, Mirrors, Neoclassicism, New York City, Philadelphia, Treillage, Wallcovering, Window Treatments
Whenever I see beauty, whether it be an object, an event in nature, or in a person's soul, it makes my heart smile. Beauty to me is a glimpse into the heart of God, and that creates joy.  But what makes something beautiful to us?  This is what I seek to learn about each of my clients.  It's a hunt for the key that will unlock the way to give my clients the joy of living in a beautiful home.  Being surrounded by beauty makes my heart sing, and I want that experience for my clients.
We all have our own definition of beauty – whether or not we know what it is – but the joy of beauty is an emotion we all share.  I'm always on the lookout for beauty and it's not hard to find if one is looking, but it is easy to pass by.  As an example, I'm a sucker for cute puppies.  In fact I love the Advantix TV commercials, I actually want to watch them!  One of my favorites:  Advantix cute puppies commercial
When it involves nature or children or puppies and kittens, most people would agree they are touched by their beauty.  When it comes to man-made objects, we are drawn to certain things, and what one considers beautiful may have no effect on another.
When I visited New York City, I fell in love.  I fell in love with the architecture.  I fell in love with the tall buildings snuggled close, huge blocks of stone and brick fashioned decades ago into beautiful homes and shops.
Almost everywhere I looked there were trees and flowers, a wonderful juxtaposition of nature and the man-made.  This everyday scene below is ordinary, but it felt beautiful to me, full of life and color yet, a glimpse into people going about their day.
I grew up and lived for most of my life in what we call South Jersey, the NJ suburbs outside Philadelphia.  Even though we spent our summers at the Jersey shore, it was nothing like the TV show, thank goodness.
As a teenager and adult I spent a lot of time in Philadelphia, working, taking art classes, attending concerts, plays and the ballet, dining at the many wonderful restaurants, shopping, even just getting my hair styled.  And of course visiting the Philadelphia Museum of Art.
I even raced up the steps, ala Rocky.  Well, maybe I didn't exactly race – 72 steps is a lot!
My DH (dear husband) and I loved working in and visiting Philadelphia.
For a brief time, we even dreamed of moving into Society Hill, until reality set in.
The row homes in Society Hill brought to mind these homes I saw in Dublin.  I like the large fanlights above the doors in Dublin but the windows without shutters look naked IMHO. What do you think? Or perhaps what I don't like is how the facades run into one another.  And they need more plants!
A wonderful site for lovers of old homes, www.oldhouseonline.com says this about the Society Hill home below "The entrance to the 1790  Pancoast-Lewis-Wharton House enriched with a Tuscan frontispiece. A King of Prussia marble stoop and Flemish bond brickwork with glazed headers are both typical of the period."
So visiting New York City this year felt a little like coming home.
I know Philadelphia is much smaller than its big brother, but New York City still felt like family.  So maybe what we find beautiful stems from what we loved in the past?
I grew up in a Mid Century Modern home and it didn't seem extraordinary to me back then.  Looking back at it now, it was rather hip.  We had a sleek turquoise sectional on hardwood floors and an upholstered pink side chair that rocked, similar to these from Irwin Feld Design.
My mom had traversing drapery panels made from a textured open weave fabric of turquoise and I think gold and hung them over Venetian blinds which were all the rage at the time.  We had two tall gourd shaped lamps with a turquoise mosaic inlay and barrel shades that would look quite at home now.  Our sunburst clock was my favorite even as a kid.  Ours was similar in shape and size to this one but without the detail on the hands.
When we moved to Florida and I needed a wall clock, I was immediately drawn to a gilded sunburst clock I found.  I didn't even make the connection with my childhood clock until much later when I was looking at old photos.  Now I know my love affair with sunburst clocks and mirrors started at a very early age.  I don't care if they are considered chic, trendy or passe. I'm still in love with them
What I remember loving as a child – and still do today – is the mahogany furniture my grandparents had, their Georgian Secretaire bookcase and the Chippendale dining chairs.  Such workmanship!
If I could, I'd buy this Queen Anne Red Lacquer Bureau Bookcase from MILORD Antiquities on 1stdibs.  It's already sold for what I'm sure was a handsome sum.
Why does one adore Neoclassicism and another Art Deco or Arts & Crafts?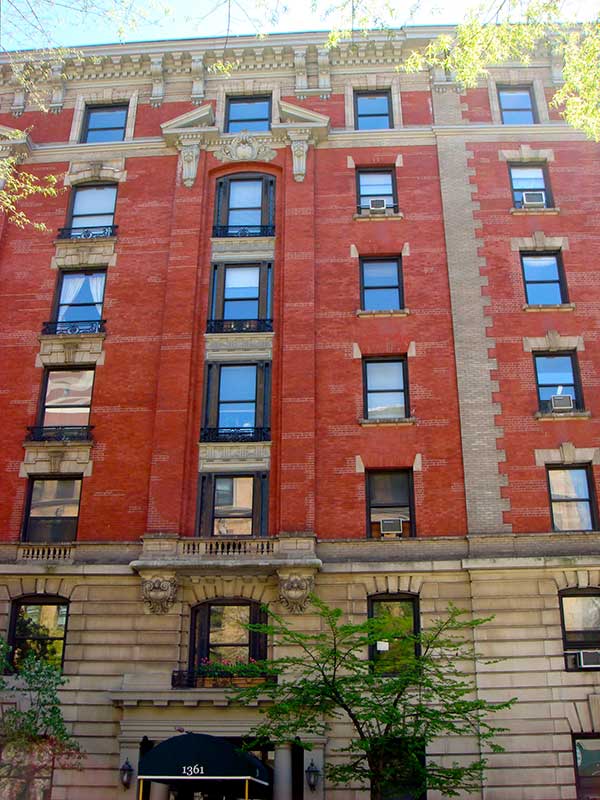 Almost everything in the Powel Room in the Met I find beautiful – the wallpaper, the pagoda cornice, the mirror, the Chippendale chair, the woodwork, the chandelier.  The rug, not so much.
Could it be because it's from Philadelphia?
I appreciate Frank Lloyd Wright's genius from an intellectual perspective, but it doesn't make my heart smile.
So when I visited NYC and met Tamara Stephenson, an interior designer and writer of the blog Nest by Tamara, I told her I wanted to see brownstones and the city's architecture as well as home decor and antique shops.   On our day together, Tamara generously gave me a walking tour of her neighborhood, the Upper West Side.  I tried to be a somewhat inconspicuous tourist as I photographed buildings that New Yorkers see every day.  Tamara took me to several shops, including Bunny Williams shop "Treillage" which I wrote about here.  The next day it was a forgone conclusion that I'd pay a visit to John Rosselli Antiques and other antique shops nearby.
So what do you think was the first thing that grabbed my eye upon entering John Rosselli Antiques?  Why this of course:
And this is what I tell my clients:  The most important thing to keep in mind when decorating your home is to keep and buy only what you love.  When we look at things we love, we feel happy.  When we look at things we don't love, they create emotional clutter and drag us down.
Next:  Inside John Rosselli Antiques, NYC

14 Responses to "The Beauty of Things Remembered, Part 1"
Leave a Reply