It's Day 3 of my daughter's visit and since she lives in the middle of Pennsylvania, far away from any beach (and from us), we all decided a day at the beach would be the perfect mini vacation.  Even though it's November and much too cold to lounge on the sand in much of the country, it's perfect beach weather in southwest Florida.  Not too hot, not too cold, it's just right, as Goldilocks would say.
For those of you wishing for one last summer hurrah or who are already shivering, I hope you enjoy this as a little virtual escape.  It's finally gorgeous here, the kind of weather I wait for all year.  My reward after the hot, humid summer where I feel like a wilted hothouse flower!
I rationalize that the long, hot and humid summers are comparable to the bitter cold and gray days of winter up north.  Except I don't need the heavy coat, gloves, scarf, hat, and boots.  I like wearing boots though and I'm happy to live in the Tampa Bay area because it does get cold enough to wear blazers and boots for a month or two.
When we lived up north, I surprised my DH with a trip to Marco Island for his birthday.  We packed our swimsuits and shorts and flew down for a few days of sun.  Little did we realize that Florida is not always hot, not even always warm; in fact, it was downright freezing.  It was January, but isn't Florida always hot?  No it is not.  We weren't alone in our delusion as the rest of the hotel guests were also wearing shorts and tank tops while the natives were wearing jackets and jeans.  Now I'm the Floridian marveling at the Northerners wearing shorts and tank tops in January.  But back to our warm day on the beach:
We packed up the car and drove past Clearwater Beach.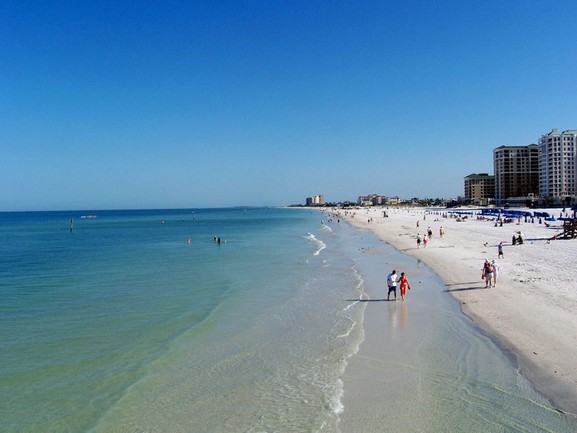 Instead we headed to our favorite county park, Sand Key.  Florida has many county parks for recreating.  Love that word:  re-creating.  Going to the beach makes me feel like I am re-creating myself.  Sand Key has big wide beaches and well maintained public facilities, and it's hardly ever crowded.  It's not as beautiful as Clearwater Beach but the lack of crowds is what we like.
The weather was perfect.  Temperatures around 78 degrees, sunny, with a light refreshing breeze.  We set up our chairs but promptly had to take a walk.
The water was cold, about as cold as the water in our pool.  In the summer, the Gulf of Mexico takes barely any getting used to, unlike the freezing cold water of the Atlantic.  Maybe it takes me back to my roots in South Jersey, but I like the cold water.  So walking in the "surf" was refreshingly cold.  But no, I'm not swimming in my pool this time of year!
Florida is a smorgasbord of seashells.  The best pickings are in the morning so I didn't bother to collect any today
There weren't many people on the beach but we were not alone by any means.  A young couple was preparing to go kayaking.
An Asian couple got married a few hundred yards from us.  They were beaming as they walked by us.
A little boy built a cool sandcastle
It seemed like there were more birds than people on the beach.  The birds mainly just stood there
until my daughter chased them, a tradition from when she and her brother were much, much younger.
Then all at once it was time for the early bird special.  All the birds filled the sky over the Gulf, searching for the tastiest morsels.
It was entertaining to watch them dive headfirst like missiles into the water.  It made me glad I wasn't out there swimming!  Actually I have been out there when they were feeding and the birds don't dive near swimmers, thank goodness.
We walked up the beach to check out the tents.  When we drove through Clearwater Beach to get to Sand Key, we saw a veritable tent city set up for the IronMan triathelon which starts Saturday morning.  More than 1500 athletes will swim 1.2 miles in the Gulf, then bike 56 miles, and end the race with a 13.1 mile run.  The athletes have 7.5 hours to finish the race.  Most amazing to me is that there are about 22 athletes who are over the age of 70.  Suddenly, I'm thinking I really do need to get up earlier and exercise more often.
We saw a man in eye-popping physical condition jogging on the beach today and figured he was competing.
The welcome dinner was set up here on the beach with lots of chairs, this is only about a tenth of them.
I knew they were going to have food that was…well, delectable.  I know this because I've used this caterer and they live up to their name.
When we returned from our walk, we noticed a pair of running shoes set neatly next to our chairs.  We figured it was someone who didn't want to leave an expensive pair of shoes all by their lonesome.  Sure enough, eye-popping man had gone for a swim and left his shoes there.  I was hesitant to snap his photo with my DH there (but my daughter wasn't!)  This photo doesn't do him justice, he was gorgeous!  Do you know how hard it was not to stare?
He was very friendly and said yes he was competing in the IronMan, as was his wife.  My DH asked if he was a top contender, to which he said he isn't, but his wife is.  They had come all the way from England to swim, bike and run in the last IronMan in Clearwater.  Somehow, I no longer mind that the main road outside my neighborhood will be blocked off one way Saturday morning for the IronMan.  I'll be rooting for them!
After he left, we decided to do some yoga poses.  The advantage of a non-crowded beach!
As headstands are beyond our ability, my DH and I contented ourselves doing trees and warrior poses.
The sun was starting to set and we were getting hungry so we packed up the car and were about ready to leave when we saw this
A glorious end to a perfect day on the beach.  I hope you enjoyed this little respite from the chilly weather, my Northern friends. And remember, you're always welcome to come visit!

3 Responses to "A Beautiful Day at the Beach"
Leave a Reply