Come with me on a little tour of the shop Treillage in New York City, owned by Bunny Williams and John Rosselli.  With my gracious new friend, New York City interior designer and blogger Tamara Matthews-Stephenson of Nest by Tamara fame, we found unique and beautiful juxtapositions everywhere in the shop.  I love shops where my eye is drawn toward different vignettes and tableaux, one more beautiful than the last.  Treillage is full of unique and charming pieces I wanted to take home.
I'm not sure if the styling was intentional or not, but the fresh blue in the vignette above is set off by reds and oranges and brings to mind her Kips Bay Showhouse 2009 All-in-One room.  I know there was a controversy over the red chair, but I like it myself.  My eye zooms right to the red chair and then meanders around the room, taking in all the details.  A blue, red and yellow color scheme is one of my favorites.
This framed tile mural from Spain caught my eye with its fine detail and riot of color – and birds, I love birds!  I'd love to hang it where I could see it everyday.  It is haunting me, it would look wonderful in my lanai or kitchen.  You can just see a little of Tamara on the side.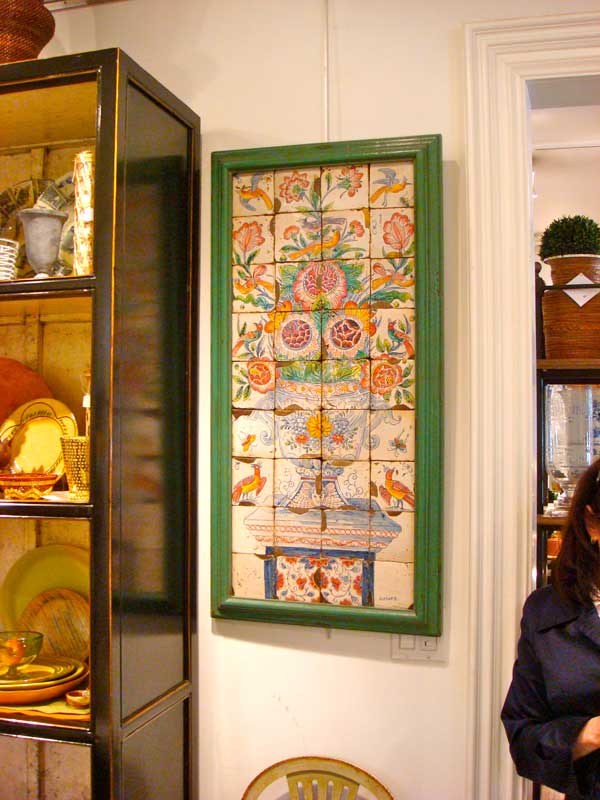 If wishes were dishes, I'd have an entire room set aside just for china.  I love to mix and match to create different place settings; it spices up the table, just like seating unknown guests next to each other.  Sometimes you just have to experiment and see what happens!
This table setting is interesting yet understated, and it would not overshadow the food, important for a foodie like me.  Aren't these Greek Key Hurricanes marvelous?  The compotes are sitting on French hand-painted Limoge porcelain plates.  The flatware is pretty wonderful too.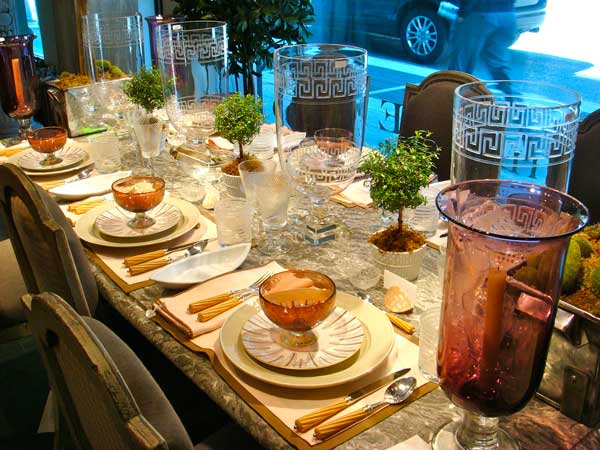 One of the things I love about Bunny Williams' style is how she uses color.  Triadic color schemes are one of my favorites because they feel so well balanced.  The neutral seating gives the eye a place to rest and the touch of blue helps turn down the temperature.  The plant in the Chinese urn reminds me of a boiled egg in a cup, a touch of whimsy, or maybe I'm just hungry!
I have a small collection of blue and white Chinese pottery and could easily go overboard.  The designs painted on these vases are striking!
This is a set of 18, Boch Vieux Luxembourg plates from the 18th Century.  There's something so fresh about blue and white.
Can you believe these tangerines are not real?  This Tromp-l'oeil tangerine dish is extremely realistic.  My eye is certainly fooled, how about yours?
Purples, greens, and gold, backlit with blue, another luscious color combination.  Sparkle always catches my eye too.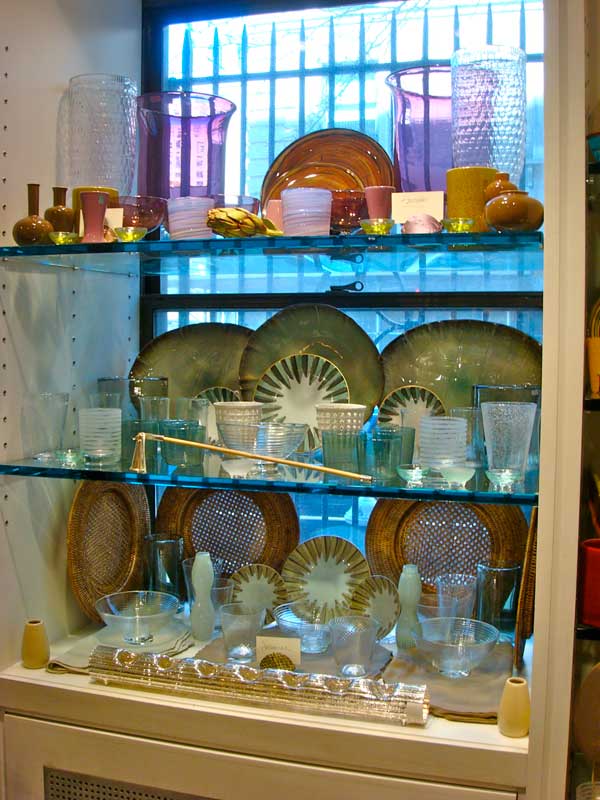 Here's a closeup of the silver fluted flute vase/votive holder that Tamara and I both liked.
The petal-like footed bowls hold a glass insert so they would make charming candle holders as well as compote dishes.  I have a set of blue glass compotes from Spain that I confess I don't use often, but nevertheless, I love looking at how they glow in my china cabinet.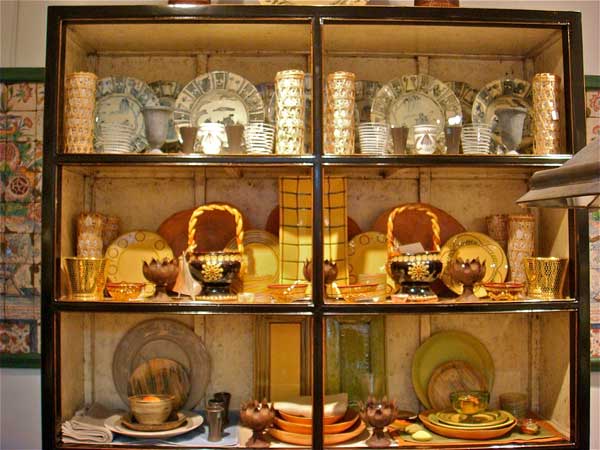 The number of patterns here is amazing but restricting the colors makes them play nicely together.
It seems every store we visited that day featured a stone deer, but none so attractive as this deer from France (circa 1890) with its peaceful, regal air.  The gilt faux bois mirror is perfect with the deer on the rough hewn console, an elegant rustic luxe look.
Who could resist looking at their reflection in this star mirror?  Love that chandelier too!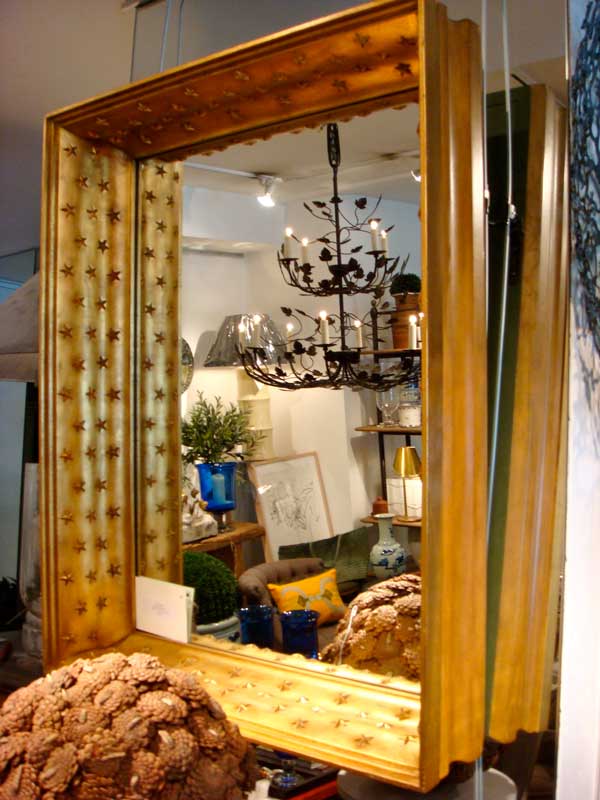 An antique armoire with interesting lines, although I prefer curves with straight lines.  More interesting to me are the chairs with their beautiful backs that incorporate both straight and curved lines.
I hope you've enjoyed this little tour of Treillage.  To see more, you can visit them at their two locations in NYC.  I visited the shop on Lexington but next time I'm in NYC, I'm making it a point to visit the shop on East 75th.
A profile of Treillage (the E. 75th St. shop) in New York Magazine states:  With exposed beam ceilings, huge skylights, and the soothing sound of running water from an indoor fountain, this expansive space feels more like a sanctuary than a home and garden design store. Co-owners Bunny Williams, an interior designer, and John Rosselli, an antiques dealer, met while attending the Chelsea Flower show in London, where they bonded over a mutual dissatisfaction with how difficult it was to find lovely things for the garden. In 1991, they opened Treillage in a former nineteenth-century blacksmith shop. Today, they fill the rooms with a mix of new and antique furniture (cast-iron tables, hand-carved limestone birdbaths, Chippendale garden chairs), lighting (copper-and-glass hand-blown lanterns, porcelain lamps, scrollwork sconces), urns, finials, topiary forms, and an assortment of vases and pots. While the staff is generally attentive, service can be a bit fickle on busy days. And they have much to keep them busy: They've been featured in Elle Decor, House & Garden, and Martha Stewart Living and have an impressive clientele (including Oscar de la Renta) rooted in New York, New Jersey, and Connecticut. — Bree Sposato
You can also shop online at www.treillageonline.com.
My Facebook & Twitter friend Tobi Fairley of Tobi Fairley Interior Design featured Bunny Williams recently in a series of blogposts about her books and designs complete with a contest to win her books.   I already own Bunny Williams' Point of View so I entered the contest hoping to win An Affair With a House but alas it was not to be; guess it's time to pull out my credit card!
The next day I visited John Rosselli Antiques, which I'll be blogging about soon.  I have a love affair going with blue and white Asian pottery and could barely pull myself away!

31 Responses to "A Tour of Bunny Williams' shop: Treillage"
Leave a Reply