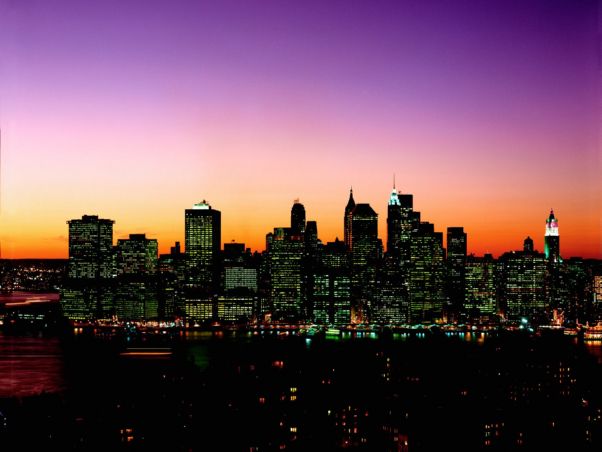 The Journey to New York City (a virtual experience for the New York neophyte)
When my husband told me he needed to go to New York City for business, I jumped at the chance to tag along.  While he was in meetings all day, I'd explore NYC from a design perspective and see some of the fabulous architecture, shops and sights and naturally, tour the design center.  Considering that we used to live in southern NJ (or South Jersey as we call it), it's a sad fact that I'd only been to NY a couple times.  The first was when in college, I took a chartered bus trip to see Rudolf Nureyev dance at the Metropolitan Opera House, but afterward we had to get right back on the bus.  After seeing him dance, I was totally mesmerized and wouldn't have been able to take in anything else anyway, much to the chagrin of my date.  Here's a short video of Rudolf Nureyev dancing with Margot Fonteyn.  Don't say I didn't warn you!
Years later, married with kids, Charles and I decided to move to Florida and realized we'd never taken the kids to New York city, so we jumped in the car and drove off to see the Statue of Liberty.  Sad but true, like Joni Mitchell sang, "Don't it always seem to go, you don't know what you've got till it's gone"  Big Yellow Taxi.  Or in this case, till we were gone, to Florida.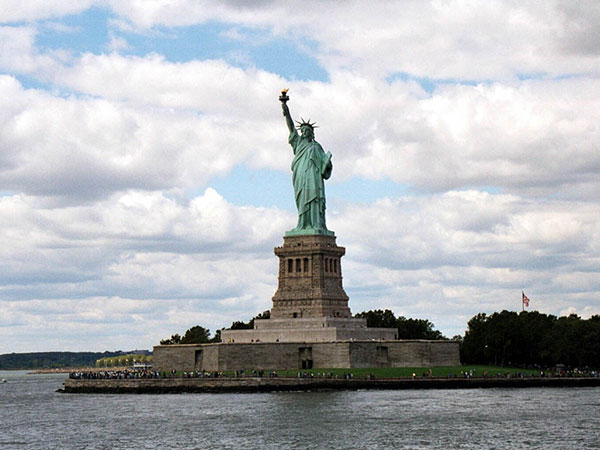 That day there was a demonstration that closed the ferry to the Statue of Liberty.  With our plans foiled, we improvised.  After turning down a request to buy a Rolex watch that was a steal if only it had been real, we made our way to the World Trade Center, rode the elevator up to the tippy-top and viewed the city panorama from there.
Now of course we're glad the Statue of Liberty was closed that day or we would never have experienced the wonder that was the World Trade Center.  And it gave us another reason to go back; everybody should see the Statue of Liberty once in their lives!  After descending and walking around the city in search of food, we ended up at Morton's Steakhouse where they took pity on us tourists (as witnessed by our jeans, sneakers and SLR camera) and sat us in a dining room full of well dressed business men and women.  I was slightly embarrassed to say the least but hunger won out.   To this day, I fondly remember the delicious meal but most of all how very nicely they treated us.
I could kick myself for not visiting New York more often when we lived only an hour or two away.  But now I had a chance to make up for lost opportunities.  We decided to fly to Philadelphia and drive to NY so that we could tack on a visit to our family in NJ and sneak in a little Atlantic Ocean time too.  As a foodie, Charles researched every restaurant where we'd dine and I would pick the show we'd see.  Upon arriving in Philadelphia, he took me to Tony Luke's, whose Italian cheesesteak won Bobby Flay's Throw Down challenge on the Food Network.  It's become a tradition for him and his pals to pay a visit after their annual men's retreat in Malvern.   Tony Luke's is part bar, part diner decor, with green faux leather booths and aluminum slatted chairs.   We split a roasted pork, provolone and broccoli rabe sandwich, a fabulous combination of flavors that obliterated any thoughts of decor.  I'd go back for that sandwich any day.
The weather was what we call a New Jersey day:  cloudy with no sun.  That's not totally fair because NJ can be beautiful and sunny, and Florida can be overcast and gray too.  But that's what we like to call it.  We headed off to New York and made good time until we reached the Lincoln Tunnel.  By that time it was 5pm Friday and it took an hour for all the cars, trucks, and big buses with screeching brakes to funnel down into two lanes. Here's a view of the city which tantalized us while we waited in traffic, and another view of the houses in NJ staring wistfully at NY.
The whole Lincoln Tunnel experience was rather harrowing and driving it was a bit surreal as I hope this photo conveys.  That bus seemed mighty close when it was alongside us.  Once we saw the light at the end of the tunnel we breathed a sigh of relief — and anticipation.
Arriving in New York (finally)
It'd been a long day traveling to get to the city, but once we were in the city driving to our hotel, we both felt the pulse of the city, as if we'd entered a giant beehive, the city buzzing with life.  There is something about being in New York city that makes one feel more alive.  Not all big cities feel that way.  Paris, for example, feels much slower paced, but then, I haven't been to a city with more energy than NY!  Maybe if you live there it wears off, but for visitors it gets the pulse racing.
Here is a photo I had to snap not only because I love BMW but also because of the crazy cool building above it.
The southwest Florida suburbs where I live are almost all one story homes, so I felt a little, just a little, like Crocodile Dundee.  Not that I haven't seen tall buildings and skyscrapers before, it's just been awhile.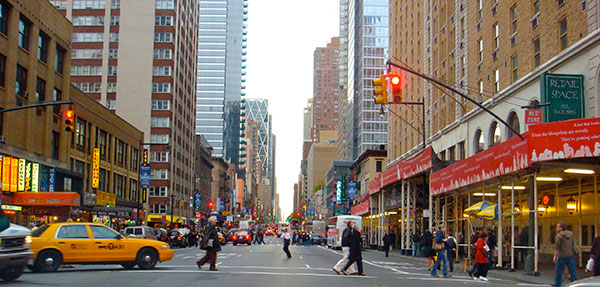 My husband and I stayed at The Michaelangelo, a small boutique hotel on West 51st.
As the name suggests, the hotel is decorated in an Italian style but it's not overdone.  There are a variety of seating areas such as this one for a large party, or smaller areas tucked away in alcoves for a tete à tete
What I look for in a hotel room is not unlike what most people want in their home:  the creature comforts for sleeping, reading, enough tabletop surfaces including a desk, storage for clothing, TV and music, good temperature control, a variety of lighting, and a welcoming ambiance.  Other must-haves include a full length mirror, a good bath/shower and lots of fluffy towels.  Of course I appreciated the layered window treatment:  shaped silk cornice with banded silk panels (lined and interlined, yes I checked!) that framed sheer curtains over black out privacy shades.  Since window treatments have a special place in my heart, I also appreciated that the panels were floor length, operable and covered the entire window.  No skimping here!
The bathroom had a tub big enough for two, two terry robes, a blow dryer, a deluxe assortment of grooming products, 3 way mirrors, a scale (considering our plans for delicious dining, a scale is the last thing I wanted to see, but would you think its presence created a subliminal message in my unconscious not to over-indulge?  Remember I told you my husband is a foodie?)  The magnifying mirror was a godsend since I forgot mine from home.  Otherwise the cosmetic results would have comedic!
We were very pleased with the room and I especially loved the most comfortable mattress we've ever slept on.  I seriously would've liked to take it home with us- and our mattress at home is no slouch.
Next:  Touring the Upper East Side with Tamara

5 Responses to "New York City Here I Come"
Leave a Reply