This is the living room of a couple who have lived all over the U.S. and Europe.  My client has many lovely antiques and pieces she's collected from her sojourns.  Even though her living room is well furnished, she appreciated how custom window treatments would finish the room and make it more inviting. The architects here in Florida love French doors and big sliding glass doors, but their designs often don't have enough space on either side to allow draperies to clear the window or to accommodate large finials.
Before the window treatment & tweaking
Having had formal swags and jabots before, she wanted something more casual, like the custom drapery she saw here in Traditional Home
Rather than use scrim as in the reference house, we chose to use linen accented with a braided tape for a pop of color and texture on the leading edges.  The hardware is a custom hand-finished wrought iron and fortunately the finials, though small, have plenty of personality.  I recommended a shorter than usual four finger pleat because they are fun and I think, kind of flirty!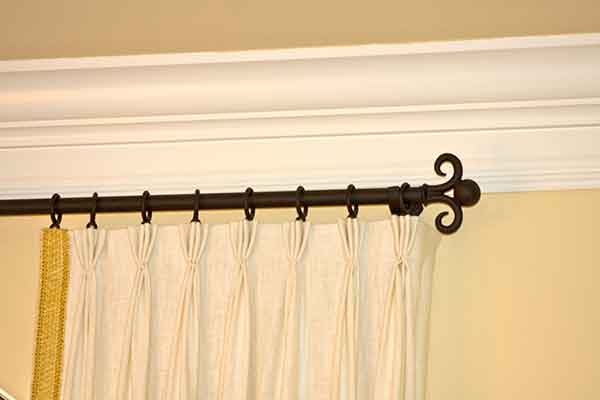 To update her colors, I suggested replacing the dark blue pillows with a turquoise I pulled from the printed chair fabric and Oriental rug.  I also suggested hanging this painting here to better balance the color in the room.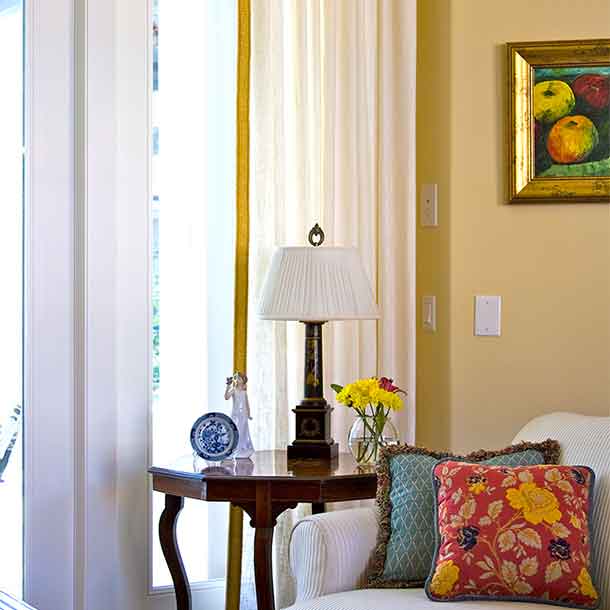 The linen panels soften the light and give the room a casual elegance.  New turquoise pillows refresh the room and the newly placed oil painting helps balance the color.  Sometimes all it takes are a few small changes to transform a room!